Product Description
To purchase equipment please proceed to checkout and settle payment via Amazon Pay or PayPal. If you would like to pay via credit card or bank wire transfer, please call us and connect with our Sales Department. International orders will require payment via bank wire transfer. Please call (800) 277-7277, or email us at sales@visionsespresso.com for additional information.
Modbar's Pour-Over Module brings precision-temperature water to the counter – no more pitchers losing valuable temperature between the back wall and the pour-over solution. Pour directly into your Chemex, Hario or other pour-over system…you define the temperature. Modbar even provides a holder for many Chemex and Hario systems as well as optional spray or stream nozzle tip. Plus, you can teach Modbar software to replicate your pouring technique.
Learns / stores up to 10 complex volume and time based brew cycles.

Line pressure dispensing with flow control.

Store and share brewing profiles with other modules.

3.2" touch screen full color display with navigation joystick/encoder.

USB port (front panel) for firmware updates via flash disk.

Dual boiler technology with active thermoblock brewhead.

2-zone PID temperature control, 1/10 deg. resolution.

Proprietary state of the art circuitry and software.

Real time pressure and temperature read out.

316 L stainless steel boiler construction, electropolished finish.
Specifications:
Weight: 50 lbs.
Voltage: 208-240, single phase
Amperage: 15 A
Wattage: 3,000 W
Boilers Capacity: 1.2 L
Boiler Material: 316L SS
Panels Materials: 430 SS #4
Frame Material: machine finish black anodized cast aluminum
Design:
Modbar wanted to make brewing pour-over coffee easier and better by bringing the water solution to the bar and removing temperature loss when water is transferred. The Modbar Pour-Over includes optional additional wand holders (used to brew multiple carafes without moving them) and cone holders. We can support custom requests at times as well. With the Pour-Over Module, you'll have more time to educate and entertain.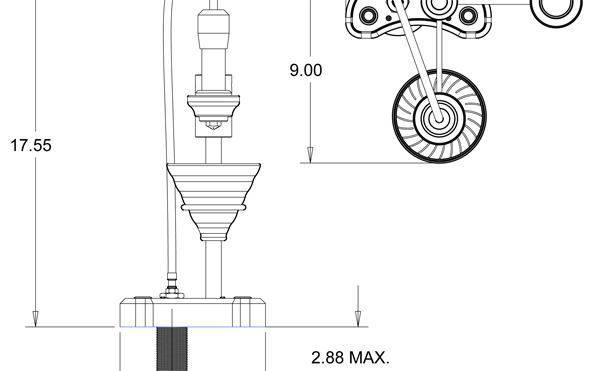 Control:
Modbar's software enables the user to "teach" the Pour-Over module how to pour, wait, pour in the exact time intervals and water volumes you like to saturate grounds and brew coffee. And the barista or manager controls brew temperature and volume too.
Modularity:
Thanks to the modular nature of Modbar products, you can create a pour-over station with one or more taps or simply include the Pour-Over Module in a work station (ie, next to Espresso and Steam Modules). How much pour-over business do you do? How much more could you do if it were more appealing?
Product Videos
Custom Field
Product Reviews
You May Also Like...